Gift Items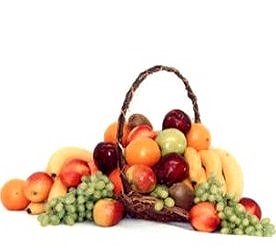 Gift baskets of gourmet snacks and fresh fruits are always in style and are appropriate for almost any occasion, any time of year! Need a gift for a "hard-to-please" person on your list? We can take your special requests and design a custom basket filled with gift items, food and snack favorites ~ personalized especially for your friend or loved one.
To get your custom gift items, come by and see Wyckoff's Florist - your local Oneonta, NY florist.
PLEASE REMEMBER THAT EACH SELECTION IS CUSTOM MADE AND SUBSTITUTIONS MAY BE NECESSARY AS SOME ITEMS ARE SEASONAL. WHEN YOU ORDER CUSTOM DESIGNS THEY WILL BE PRODUCED AS CLOSELY AS POSSIBLE TO THE PICTURE.
ALAWYS ALLOW AS MUCH ADVANCE NOTICE AS POSSIBLE. FRUIT/GIFT BASKETS REQUIRE MORE TIME THAN FLORAL ARRANGMENTS - PERISHABLE ITEMS (FRUIT) ARE NOT STOCKED AND NEED TO BE PURCHASED ONCE THE ORDER IS PLACED.